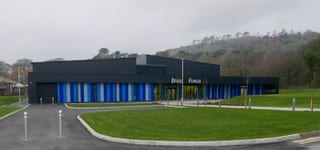 Solray were proud to supply the Free Hanging Radiant Heating Panels for Coleg Sir Gâr's brand new sports and theatre facility, called The Forge. The brand new building was officially opened in November 2018 and has been built to benefit all learners through promoting physical activities as part of a healthy lifestyle as well as for those students who are on sports and creative industries courses. With an extensive sports hall included in the design, the new facility will also benefit students from across the college with an area to participate in active lifestyles as well as providing the Netball Academy with a home venue for the very first time.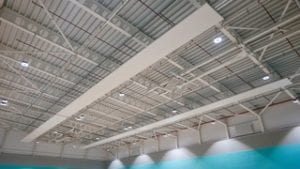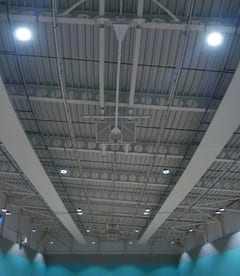 A wealth of experience to help you
We are uniquely well positioned to help you meet the key challenges presented by sports halls and other activity spaces:
Robust anti vandal: We use top quality materials for our panels (1.6mm aluminium or 2mm steel depending on application) which means our panels are extremely robust.
Design flexibility: We work with you to design our system to meet your exact requirements using either standard panels, fully bespoke shapes and sizes, or a mix of the two.
Efficiency and comfort: Our panels warm occupants directly using radiant heat (rather than heating the air around people). This makes them both cheaper to run and more comfortable thanks to the lower air temperatures which, coupled with their almost-instant response times makes them particularly well suited to large open spaces.
We can 'supply only' or 'supply and install' and guarantee both elements for 10 years with the ability to extend the guarantee up to 25 years.
UK Based Manufacturing and Support
All of our panels are manufactured here in the UK in our purpose-built factory just outside Swansea. You can therefore easily access our highly responsive UK team who will be happy to help you.