Solray provide heating for Libraries in Birmingham, Swansea & London
In 2013, we've been involved in no less than three library projects. The first being the refurbishment of Sutton Coldfield Library in Birmingham.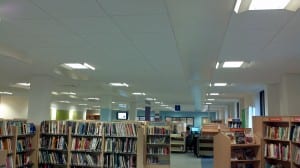 Initially alongside M&E consultants One Creative Environments, Solray put together a scheme to satisfy the heating needs of the award winning building building but to also work around other ceiling services. The Library has a new children's section with a special once upon a time themed story area. We installed the panels on behalf of M&E contractor Indtherm back in March with the state of the art, award winning venue reopening to the public in May 2013.

More recently, we've been involved in the supply and install of radiant panels for Morriston Library in Swansea. Saba Consult came to us with a fairly large heat loss due to the age and structure of the building so the challenge was to get enough panel in the area to meet the load. After careful thought our project designer (Tony Phipps) came up with a solution that involved a panel around the perimeter of the area as well as some strips through the centre of the ceiling to meet the high heat loss. The perimeter of the ceiling had a range of different services running down the walls which meant our install team needed to carefully cut around the various services in order to finish the install. We've taken some snaps of this at the early stage just before the suspended ceiling went up but there are some interesting images showing how our highly skilled and experienced installers worked around the hurdle of cutting out.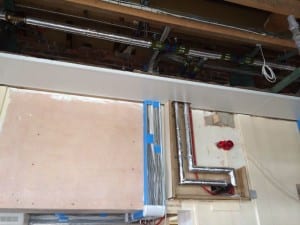 . We finished this job at the end of October 2013 on behalf of Swansea Council who were acting as the M&E Contractor with completion due on site in early 2014. The same week, we received yet another library order for the infamous senate house library in London. This project involves a completely bespoke radiant panel system. More detail to follow as the project progresses!